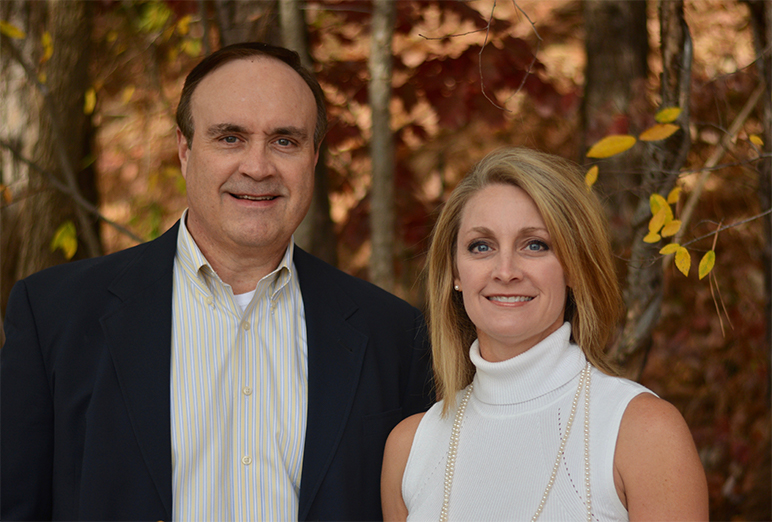 Dr. Hamp Moore
Dr. Moore came to Florence to attend UNA on a football scholarship graduating as a Doctor of Optometry in 1986.
He practiced optometry as a Lieutenant in the US Navy at Portsmouth Naval Hospital in Virginia and later at N.A.S. Oceana Branch Medical Clinic. He returned to Florence in 1989, and has been continuously in practice since, working in partnership with other area doctors at Shoals Eye Clinic, Valley Eye, and Florence Eye Center.
After purchasing Tomsik Eyecare in downtown Florence in 2005, Dr. Moore moved the practice to its current English Village location in 2014 and changed the name to Renaissance Eye Care.
Dr. Moore and his associate, Dr. Kathy Warner, practice general optometry with an emphasis on treating eye diseases, fitting contact lenses, and providing low vision technology.
Dr. Kathy Warner
Dr. Kathy Warner has been serving patients in the Shoals since June of 2000 and has been in practice with Dr. Moore since 2010.
A native of Hamilton Alabama, she is a graduate of UNA and of UAB's School of Optometry. She is also involved with several organizations including the American Optometric Association and the Alabama Optometric Association. Dr. Warner has a special interest in low vision and was the 2000 recipient of the Feinbloom Low Vision Award.
Dr. Warner lives in Muscle Shoals with her husband, Matthew, and their two children. They are active members of the Florence Boulevard Church of Christ. She enjoys spending time with her family, traveling and photography.